A Movable Feast
When we started to gut the interior of our home, we originally thought we'd do it one room at a time. But we soon learned that it was nearly impossible to contain all the dirt and dust so we decided to get it over with and do it all at once and be done with it. Despite the conditions, this was the right thing to do…It was better to get the demolition past us and live with the "rustic" walls as we took care of all the plumbing, wiring, etc. We have become quite intimate with every aspect of this home…including the lovely studs and floor joists.
For the most part we are living primarily upstairs with the exception of the kitchen…you know, the heart of the home (in this case a black malignant heart with barely a beat). But do to the wiring, plumbing, and all the structural needs, we periodically need to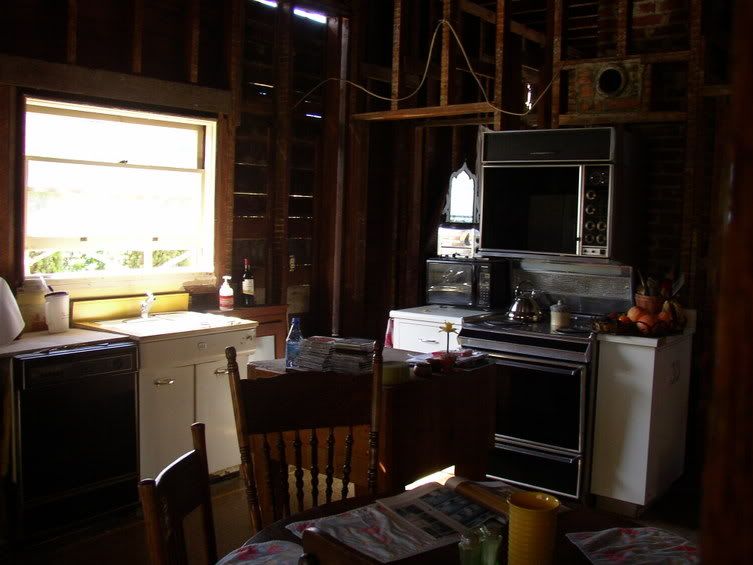 move camp to another location.
We are now on our third (and hopefully final) location of our temporary kitchen. First we had this:
Yes observant people, that is daylight you can see through the walls. We lived with this kitchen for about 9 months until we moved to our next location…but at least there was running water, a sink, and a range…until we made our next move.
Lovely isn't it? Yes this is Camp Yosemite. Here we had no water, no range, no sink. All appliances ran off one circuit so you had to time things so they wouldn't blow the circuit breaker.
We have now lost most of the furniture and moved to our latest location (in our future T.V. room). We are down to a real "minimalist" movement—so we can easily pack things up when it comes time for insulation/drywall. We do, however, have that wonderful new-fangled thing, which if I remember correctly, is called an electrical outlet (We still use extension cords, but at least they don't come from the garage, but from the house itself! Wooohooo!)
The good news is that we have ordered our kitchen cabinets, we are about to order our appliances, the inspection prior to insulation and drywall is right around the corner, and we should have a "real" kitchen by the end of July (but you know how time frames seem to get extended)…I can't wait…I don't think I'll ever eat take-out food again.